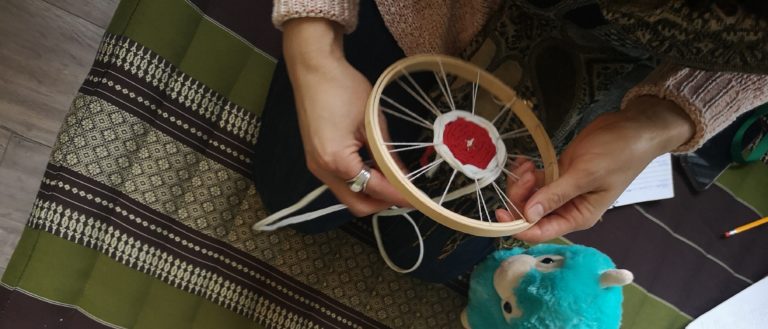 by Harleen Bhogal
On Friday, April 26th, we got the pleasure to host our Unravelling in Rhymes workshop for spring! This workshop was hosted by Deann Louise C. Nardo, a Pilipinx non-binary femme poet, artist, organizer, and facilitator living in Tiohtiá:ke/Montréal. The workshop, titled "Abel: Weaving Words and Wool", combined the art of weaving with creative writing in order to provoke new perspectives. In a way, we were weaving both stories and the wool/yarn.
Abel is the Ilokano word for "weaving", a traditional craft in the Ilocos region of Northern Philippines. That being said, every culture has a tradition of weaving, and weaving together in a group of people of colour created a sense of connectedness and common ground.
During the workshop, we called in our ancestors using writing and story-telling, and used the yarn we weaved as a metaphor for recognizing patterns, history and process of reclaiming our story. For me, the circular action of weaving created a sense that I will always be connected to my history and ancestors, even if the journey of discovering my story is not an easy one. At times the process will feel uncomfortable, frustrating, and will defy my expectations. But ultimately, my threads connect to those who came before me, and will connect to who comes after me.

Workshops are generously provided in collaboration with Vallum Magazine, one of Canada's top poetry journals encouraging dialogue between Quebec and the rest of Canada through the exchange of ideas and writing with acclaimed and emerging artists in Canada and internationally. 
For more information on our Unravelling in Rhymes series, please feel free to contact us at unravellinginrhymes@gmail.com.