Our youth program prepares for our annual poetry and art showcase, this year called Delirium!

The youth program students from Laurenhill Academy have been preparing for this showcase since October! This year, the event will showcase not only original spoken word poetry, but also photography and art created from the girls across all our high school girls programming. It will also feature an open-mic, where people from the public are welcome to sign up and perform poetry, music, etc.!

The theme of the event is Delirium. A word that is not without weight, with implications in mental health, perspective, and art. 
This event is open to the public! Details are as follows:

Location: Insiders Anti-Cafe Local (2067 Crescent St., #205)

Time: 4 – 6 PM (doors and sign-up for open-mic at 4:00, show at 4:30)

Stairs access only.

Entry cost: $7.50, and will cover the cost of beverages (coffee, tea, juice, etc.), and vegan and non-vegan snacks (muffins, cakes, cookies, chips).

If lack of funds is a barrier to accessing the event, please contact sawccyouth@gmail.com for a subsidy.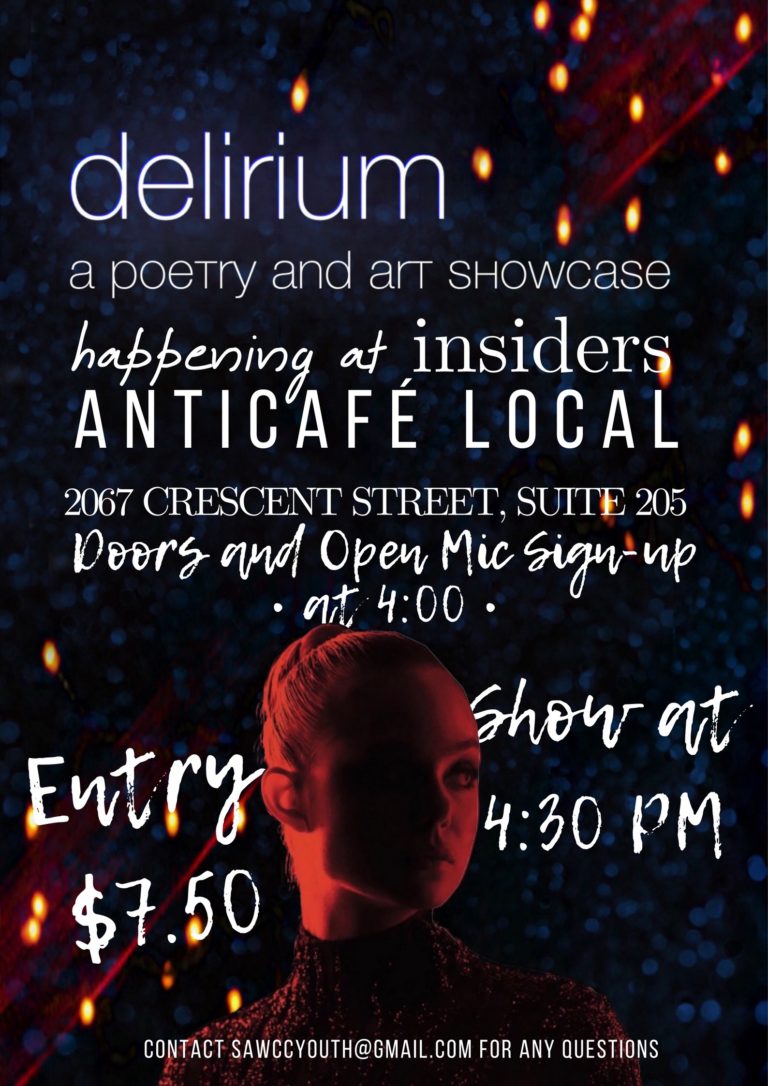 Background
The IMPACT girls club runs in three high schools in Montreal, through the South Asian Women's Community Centre. The Laurenhill Academy IMPACT girls club is an all-girls groups of artists, made up of young women ages 13-18 years old. The group meets at least once a week during the school year in order to create a space of support, write creatively, and fight for the anti-racist feminist queer positive cause. 

This is the second edition of their annual poetry and art showcase. 

For the past school year, the girls have been preparing original spoken word pieces, original art and photography, as well as putting together a short zine called Delirium, which will feature their poetry and art. Copies of the zine will be available for purchase, and all funds will go directly to the artists who contributed.

Open-Mic Sign-Up
If you are interested in performing during the open-mic component of the show, you are welcome to e-mail sawccyouth@gmail.com or sign up on the day of the event at 4 PM. This portion of the afternoon gives people the chance to share their art (not limited to poetry), experiment with performing, or perform a piece by an artist they admire. Performers have 7 minutes and can perform spoken word, music, singing, showcase their art, or anything else they please!

Content that is sexist, homophobic, transphobic, racist, ableist etc. or contains any other oppressive language or behaviour will not be tolerated. Performers will also be asked to issue content warnings before their performances if relevant to their poem. 

Interested in getting involved?
We are in need of volunteers to help before the event (promotion, postering, etc.) as well as the day of the event (set-up and take down). We are also relying on the community to come out and support our young artists and poets, and create a lively, welcoming atmosphere that will encourage genuine connection and magical vibes!



Written by Harleen Bhogal – Youth Programs Coordinator (sawccyouth@gmail.com)
---